Consider the Many Advantages of Mausoleum Burial
Since the beginning of Civilization, people have interred their dead in mausoleums. Burial in a crypt was traditionally the choice of Royalty and the rich. Mausoleums had long been a demonstration of wealth and power. Until now!
More recently, community mausoleums have made it possible for any one to be interred in a clean, dry mausoleum crypt. Crypts have become affordable for everyone! Included with the purchase of your crypt are the opening and closing, liner and your three line inscription. One simple decision; one simple purchase.
Many people just dislike the idea of being buried in the ground. Some just prefer burial in an environment protected from the elements of weather and ground. There are many reasons why you would wish to be buried in a mausoleum rather than in the ground.
Interments are less affected by weather. Your loved one's burial will not be delayed due to frozen ground or snow cover. No wet grass to walk through or stand in.
Mausoleums are always clean and neat. No unsightly ground settling, no re-seeding necessary.
Mausoleums are constructed of reinforced concrete with beautiful Carnelian granite fronts. Their beauty and construction will last for generations to come.
No need to pay a separate opening/closing fee. No need to purchase a cemetery liner or vault, or a memorial monument. Consolidate your cemetery burial choices into one easy purchase.
Your loved ones burial crypt is always easy to find with convenient walkways. Your crypt or niche will always be accessible regardless of weather conditions.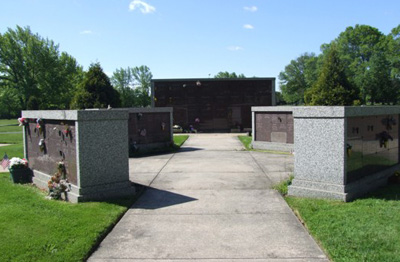 Community Mausoleums are now more affordable than ever. For a price comparable to an in-ground burial with an upright memorial, you may have all of the advantages of burial in a beautiful mausoleum.
For those who prefer to be cremated, Niches share the same advantages as crypt burial. In addition, by interring your loved one's cremains in a niche, you will forever have a lovely place to visit and reflect on memories.
Private Family Estates
You and your family can be elegantly memorialized in your own Private Family Estate for generations to come. Choose from beautiful intimate personal crypts to impressive walk-in private mausoleums. Your Estate can accommodate a single individual or your entire family. When visiting your family estate, you will reminisce and reflect in the privacy of your own building, escaping the outside elements. Your Family Estate will be personalized with your choice of style and design, as well as the choice of granite colors, stained glass windows, bronze doors, vases and benches. A private family estate is the ultimate tribute to a life well lived!